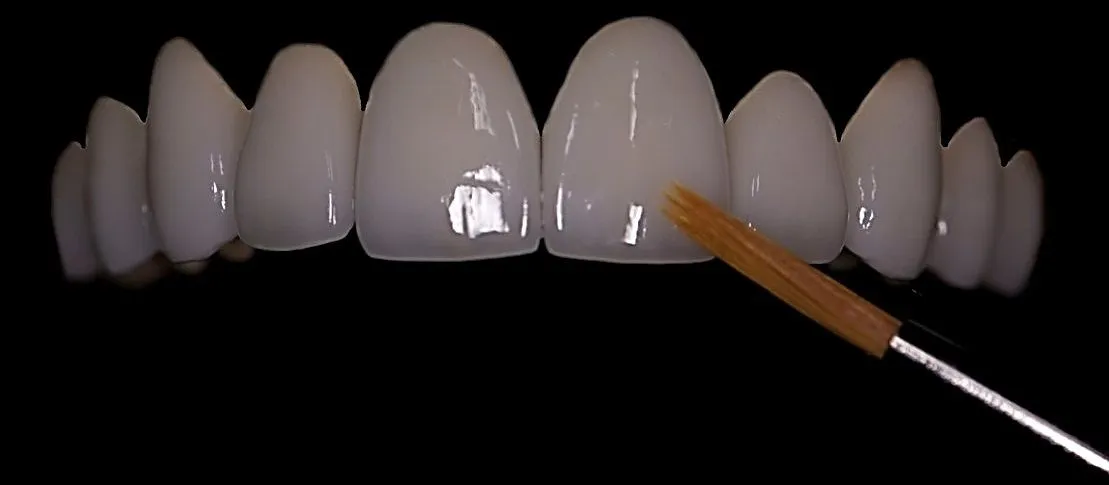 ANOTHER CREATION BY TIMOTHY C. ADAMS, DDS, D.ACSDD
Porcelain veneers are what Dr. Adams' has built his impeccable reputation on. Over the past 35 years, he has perfected the procedure to an art in order to produce the most natural looking smiles for his patients not only in the Indianapolis area, but worldwide. He has trained dentists and their teams from around the world on how to create the most natural looking porcelain veneers that technology can deliver. Dr. Adams has been involved with well over thousands of veneer cases over the years which gives him extensive experience and expertise. One thing often over looked is the importance of managing the bite, occlusion, neuromuscular, tongue positioning and airway issues which can impact an expensive veneer case. The dentist's cosmetic training is not the only fact to consider because if a dentist is not adequately trained in function, the result may be less than desirable. Be aware that some before and after photos on websites may not be the actual work of the dentist. Veneers are an excellent way to redesign and reshape your entire mouth. Veneers are a very thin ceramic shell that covers your existing tooth structure. In placing these new veneers on your teeth, you are able to correct staining, cracked teeth, spaces, misaligned teeth, chipped teeth, color, shape and many other issues.
Placing veneers is a process that takes approximately two to three visits:

In the first visit, we will discuss the new shape, color and function that will be achieved with the new veneers. Once we have put a plan in place, we will carefully prepare the teeth for the placement of the new veneers. As we complete this piece of the process, the next step is to take an impression of the newly prepared teeth. This impression will be sent to our master ceramist / laboratory for the final masterpiece to be created. We have the privilege and honor to to work with some of the finest ceramist around the country. This allows us to deliver a beautiful and natural looking veneer that mimics nature. This process at the laboratory takes between 10-14 days. While the new veneers are being fabricated at the lab you will be wearing beautiful custom temporaries that are made from a custom wax up determined by evaluating the shape and contour of your face and skin tone. Your input will be critical but we will guide you through the process to allow YOU to achieve the smile of your dreams.
When the veneers are back form the ceramist we will critique them before the delivery appointment to make sure they meet our strict requirements of marrying form, function and nature. You will then have a chance to view them before they are actually tried in. Once they pass our approval we remove the temporaries and the magic begins as we both view the new veneers on the teeth to ensure proper fit, color and shape. The veneers are then bonded on the teeth and final clean up, bite adjustments and contouring are done.
Many times an appliance is made to wear at night to protect the new veneers from any night time para-function that is present. The life changing experience of creating a new smile is an extremely powerful and fulfilling experience. There is a reason that changing smiles can have a lasting affect on a patients life and ours too "Changing lives one smile at a time"
Are you interested in Veneers to change your smile?
Then call our northern Indianapolis, IN office at (317)580-9222 today!