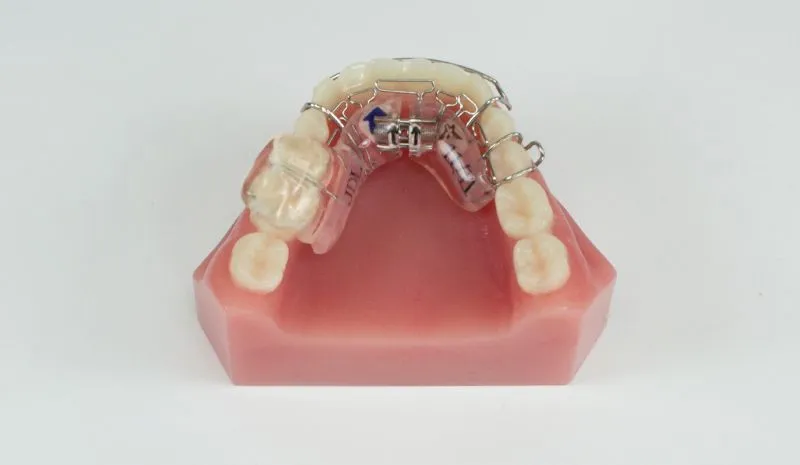 Homeoblock Appliance Therapy In Indianapolis, IN

The Homeoblock appliance is a revolutionary oral device that is much like a retainer in looks, but the results go way beyond teeth straightening.
This remarkable device is for people who want to acheive the following results naturally through orthodontics. See these incredible results at any age.
More prominent cheekbones
Wider smile
Decreased lines and wrinkles
Straighter teeth
Better facial symmetry
Treatment of sleep and breathing disorders
Facial enhancement and anti-aging
The homeoblock appliance is a device used to help develop dental arches, upper airway and to strengthen and develop facial muscles. With our lack of a hard diet, the body doesn't recognize the gene to turn on arch development. When the upper arch is not properly developed, the upper airway is restricted and causes a domino effect of airway restriction, forward head posture as an attempt to gain airway and consequently cervical neck and shoulder issues as the body tries to compensate to balance the forward leaning head. Dr. Adams has found that there is a common denominator when treating TMJ and Sleep Apnea patients. Many of them seem to lack the proper maxillary arch development needed to allow for proper upper airway development and room for the tongue.The Homeoblock appliance can help stimulate the development of both arches while wearing the appliance only at night.
FACIAL SYMMETRY WITHOUT SURGERY Read Article >>
FACIAL CHANGES AS A RESULT OF PALATIAL EXPANSION IN ADULT PATIENTS USING THE HOMEOBLOCK™ APPLIANCE
Read Article >>
FACIAL DEVELOPMENT WITH THE HOMEOBLOCK™ APPLIANCE, IN CONJUNCTION WITH THE PLACEMENT OF PORCELAIN LAMINATE VENEERS: A CASE STUDY Read Article >>
How can Dr. Adams help?
Dr. Adams has extensive training in the fields of TMJ, Airway, Occlusion and Sleep Apnea. He has lectured to and trained with many of the leaders in the field of TMJ and sleep. Being the only certified Homeblock provider in the state of Indiana puts Timothy C. Adams, DDS, D.ACSDD in a unique position to diagnose and treat patients that need more arch development and room for the tongue. Dr. Adams has found that this has a huge impact on many of his patients that have come to him seeking help for TMJ or Sleep. Ironically most of these patients have small upper arches that contribute to airway issues that drive the TMJ / TMD symptoms. If the dental arches can be developed, then some of the TMJ / TMD issues are helped.
Interested in learning more about Homeoblock Therapy? Then call our Indianapolis, IN office at (317)580-9222 to book an appointment today!